VSA Analytics
A robust, interactive, and custom tool to support college and university leaders' use of data in strategic planning and decision making.
Designed by institutions for institutions, VSA Analytics allows users to create and save multiple peer groups and build graphical benchmarking reports in minutes. The custom platform offers more than 25 benchmarking reports based on a national dataset containing about 400 variables from roughly 4,400 institutions.
For Potential Subscribers
As a subscriber you can:
View more than two dozen reports on key metrics
Create custom peer groups to view side-by-side comparisons
Download the VSA Analytics National Dataset
Print reports and export data
Add users from your institution without any additional cost
Use VSA Analytics as a benchmarking tool for institutional and strategic planning
The VSA Analytics has data on admissions, enrollment, financial aid, institutional price, student debt, graduation rates, completion rates, degrees by discipline, and more. Sources include:
Integrated Postsecondary Education Data System (IPEDS)
National Science Foundation's Higher Education Research & Development survey expenditures
Student Achievement Measure (SAM)
U.S. Department of Education's College Scorecard
Learn More
Updates for 2020
VSA Analytics has 10 years of data on over 4,400 institutions for peer comparisons
The 2017/2018 data have been updated
3 new reports:

Faculty diversity
Instructional expenditures per FTES
State appropriations per FTES

Congressional district is now a filter in the comparison group creator.
Below: 10 years of state appropriations comparing my institution and all 4-year publics. How will these trends change in 2020? Stay tuned.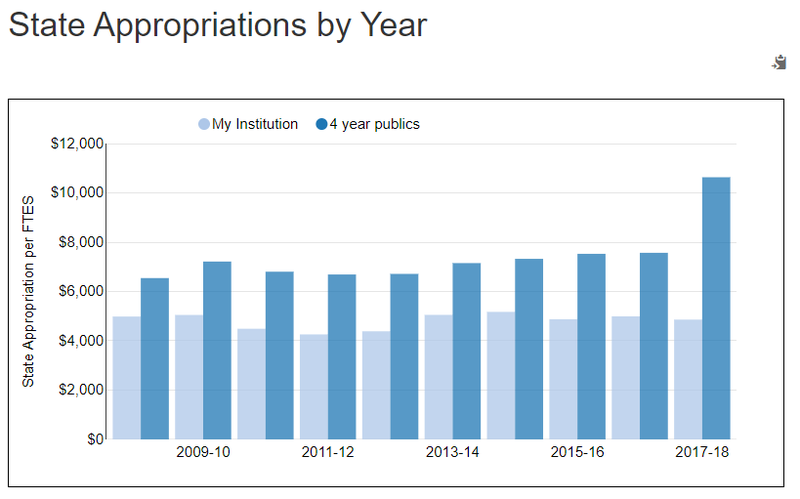 View this 15-minute webinar or a 2-minute video.